Ylang Soap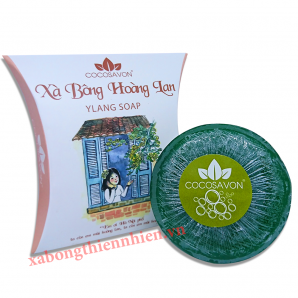 YLANG soap fit all the skin types, You can uses: wash face or shower that sterilize and moisturizing for the skin. The fragrance of the Ylang flowers makes you comfortable and comfortable.
Ingredient:
Ylang oil , Virgin coconut oil, Glycerine, water.
Usage:
Sterilize and moisturizing for the skin, pleasant aroma of ylang flower oil.
Suitable all the skin.
Products of Co Ba Manufacturing - Trading & Service Co., Ltd.
Contact to order:
Cocosavon Ha Noi office : no 19 - lane 178/5 Tay Son, Dong Da Dictrict, Ha Noi city .
Cocosavon Ho Chi Minh office; no.29/12 Hoang Hoa Tham , Binh Thanh District, Ho Chi Minh City.
Number phone:(024)62 603 861 Hotline: 0989 328 648
Contact us
PREMIUM NATURAL SOAP VIETNAM
Cocosavon Ha Noi Office
No. 19 - lane 178/5 Tay Son, Ha Noi, Vietnam
Hotline: (+84)2462 603 861 - (+84)909 582 386
Cocosavon Ho Chi Minh Office :
No.29/12 Hoang Hoa Tham, Binh Thanh District, Ho Chi Minh City, Vietnam
Website: http://xabongthiennhien.vn - cocosavon.com
Email: Sales@cocosavon.com - Xabongdua.com.vn@gmail.com