Centella Asiatica soap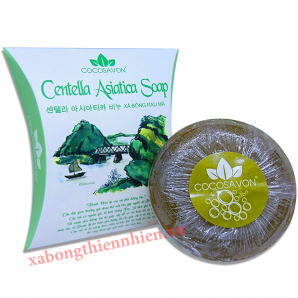 Ingredient: Centella Asiatice power, Virgin coconut oil, Glycerine, water.
Using:
* Moisturizes the skin
* Slow down the aging process
* Skin cooling, acne and scar on the skin
* Support for common skin conditions.
They are Suitable all the skin types.
Products of Co Ba Manufacturing - Trading & Service Co., Ltd.
Contact to order: COCOSAVON Office northern: no.19 -Lane 178/5 Tay Son, Dong Da District, Ha Noi city.
Number Phone: . (024)62 603 861 Hotline: 0989 328 648
Contact us
PREMIUM NATURAL SOAP VIETNAM
Cocosavon Ha Noi Office
No. 19 - lane 178/5 Tay Son, Ha Noi, Vietnam
Hotline: (+84)2462 603 861 - (+84)909 582 386
Cocosavon Ho Chi Minh Office :
No.29/12 Hoang Hoa Tham, Binh Thanh District, Ho Chi Minh City, Vietnam
Website: http://xabongthiennhien.vn - cocosavon.com
Email: Sales@cocosavon.com - Xabongdua.com.vn@gmail.com